Wallpaper Script is the only image platform that can truly give you the opportunity for managing your wallpapers in a professional manner. Other wallpaper sites create platforms that look and work the same. Wallpaper Script's simple design lets you highlight your unique theme. We've gone to great lengths to make customizations easier. Wallpaper Script comes with a great experience in wallpaper section and is the best recipe for having your own successful wallpaper gallery.
What is Wallpaper Script
Wallpaper Script is a complete image gallery solution that lets you collect, organize and share your wallpapers with friends and family. You can upload and access your images at any time from any computer with an Internet connection. Wallpaper Script sets the bar when it comes to wallpaper gallery software, and no other competitor offers as many features as you'll find in Wallpaper Script. Wallpaper Script is the premium wallpaper gallery solution used by hundreds of people just like you to share and show off their images to the world. Features include bulk wallpaper uploading, comments, tags, powerful search, multiple user accounts, unlimited photos, unlimited galleries, automatic thumbnail creation, sorting, gallery statistics and user registration.
Testimonials
I'm impressed! The new wallpaper script features are superb! Really impressed by your constant updates — my congratulations to you and the team for such a great product.
The software you wrote is amazing. It saved me a lot of headaches and time. I needed something that would work quickly, will look great on a variety of browsers and computers, and with minimal chance for error and you did it. I consider it 110% success. Thanks!
This script works perfectly for me on iPhone Wallpapers and iPad Wallpapers. The templates are pretty easy to modify, and I was very happy with the possibility of exchanging templates and colors. Keep up the good work!
19151 downloads since 2009-12-01 — 2 MB
Features
It is FREE
Add/Edit/Delete Wallpapers
Manage Wallpaper categories
Manage Users
Manage tags
Comment wallpapers
Rate wallpapers up or down. Rating done by unique ip
List wallpapres by category, tag, most downloaded, most downloaded last week, by rating, by date
Upload wallpapres without registration
SEO friendly links
Auto resize wallpapers
Description
Free wallpaper script is php script to create wallpaper sites. It is simple in use and serves to list and share wallpapers. Wallpaper script allows to list wallpapers by category, tag in 4 different orders. You can order wallpapers by date, download count, downloads in last 7 days, rating.
Each wallpaper has indicator bars to display total download ratio, download ratio in last 7 days and positive or negative rating. Everyone can rate any wallpaper up or down allowing site visitors to demonstrate what wallpapers they like and which ones they don't. It gives idea about what people like.
Free Wallpaper Script automatically resizes wallpaper on upload to thumbnails. On download request site will display available standard wallpaper sizes according to originally uploaded wallpaper and resize it to chosen download size.
Looking for reliable web host for your wallpaper site I recommend using Bluehost. They allow to host unlimited number of domains and sites. Bluehost is good for trying several websites to build and grow those that get a traction. I used them before and was very happy with their features and customer service. Many bloggers use it to host wordpress blogs. As my web site grew I moved to dedicated server.
Disclaimer: I do earn a commission if you choose Bluehost to host your wallpaper site or buy paid wallpaper script. If you do purchase through my affiliate link, thank you for your support!
Related blog posts
Screenshots
Click on description to view screenshots.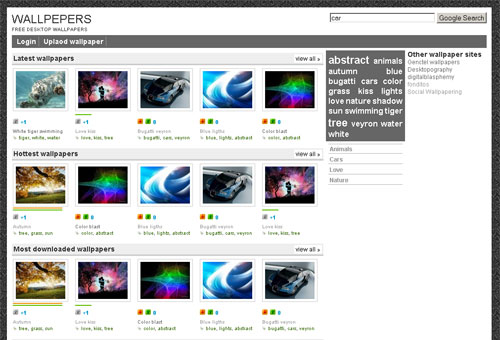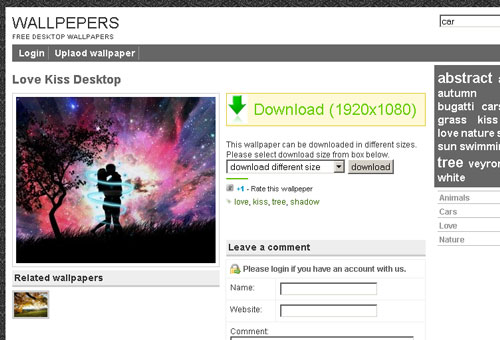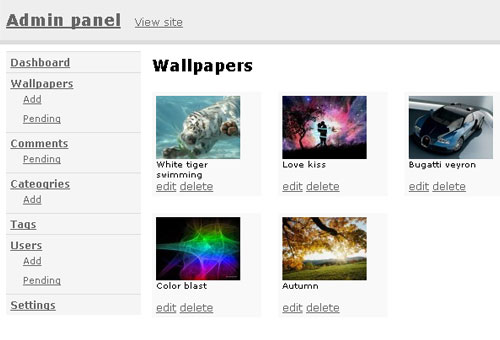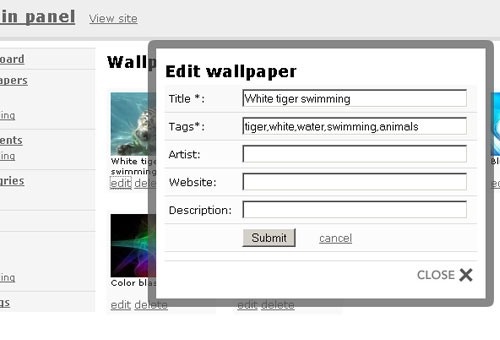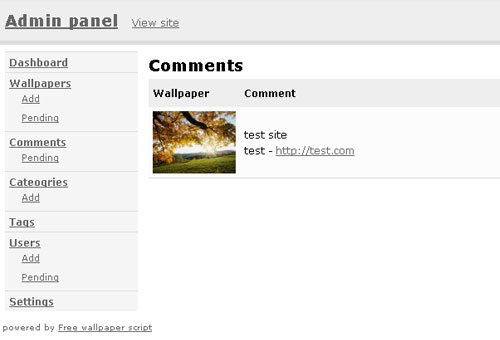 Requirements
PHP 5
MYSQL Database
GD Library or ImageMagick
Apache 2 or above
Apache Mod_rewrite enabled for seo friendly urls
Instructions
How to install: To install script unzip and upload contents to your server. Navigate your web browser to url where you uploaded script and follow on page one step installation process.
Backup /sys/config.php file
Backup your database as precaution
Override /sys/ and /public/ folders
Copy backed config.php file to /sys/ folder. This is very important:
if you forget to copy old config file and run script, you can accidentally install new script and loose all your wallpapers by overriding database.
Open your website in browser and login to admin panel
Click upgrade on admin panel notification
To run script on your server make sure you meet system requirements.
Frontpage https://veppa.com/web/wallpaper-script/demo/ – Free wallpaper script demo site resets every hour.
FAQ – Freaquently Asked Questions
Is there a link/feature for user registration?
No, there is not much registered user can do on wallpaper site.
Is there bulk upload?
Yes, available from version 1.2.1.
Change log
Version: 1.2.5 (16.06.2012)
Removed unused calls to author and category links in wallpaper.php template.
Added option to auto approve comments by registered users. Default value is set to false when updating, true on new installs.
Added version number to the bottom of admin area.
Version: 1.2.4 (29.05.2012)
Fixed bug for non PDO users when installing script. Checking for pdo without calling autoloader.
Version: 1.2.3 (03.04.2012)
renamed ParseCsv.php helper file to ParseCSV.php
Since release of bulk upload I was getting same bug report over and over again. Finally working with forum members realized that some Linux servers were using case sensitive file names I guess it was affecting 10%-20% of all installations. Finally it is fixed in Wallpaper Script version 1.2.3 which can be downloaded from script page. Thank you all forum users for pointing this and helping to fix.
Other big bug fix is UTF-8 category names and URL. Especially for Russian characters it was generating wrong category links which were resulting as 404 pages.
Also fixed category editing bug where instead of renaming category it was adding new one.
Version: 1.2.2 (02.04.2012)
fixed editing category, was adding new category instead of updating it.
fixed category URL bug where non Latin characters ware changed by strtolower, resulting in wrong category links. Fixes problem with Cyrillic category names.
fixed case sensitive file name requirement for linux servers. fixed problems with use_helper('ParseCSV');
Version: 1.2.1 (03.06.2011)
Removed all short tags as it was reported some web hosts do not allow to switch it on by changing php.ini. So all php short tags like and replaced with tags. This issue is pointed out thanks to Dudeist
Bulk upload required ParseCsv.php helper to be loaded manually in some servers. Added loading this helper to script. Thanks to dn3 for solving this issue.
Version: 1.2 (10.04.2011)
+ added no PDO option check on install
+ added check for directory permission for uploads on install
+ added check for PHP version 5 on install
+ added tags to use as page meta keywords for seo
+ added display template select tool
+ added bulk upload feature. uload via ftp csv and images to folder. then use some custom page to import them.
+ added language support (added turkish translation)
+ added script related news feed to admin dashboard.
+ added option to disable script related news feed.
+ added option for custom wallpaper sizes. Leave this option empty to use default sizes.
+ added option for upgrade databse. admin/upgrade/
+ added jquery version 1.5
+ fixed 404 problem if category has no wallpaper
+ fixed new users automatically verified because they are added by admin
+ fixed duplicate user emails
+ removed default template in application core and used custom templates in user-content/ folder
Version: 1.1 (15.01.2011)
Fixed category selection when uploading new wallpaper
It has been a year since first release of Free Wallpaper Script. With more than 3000 downloads we got lots of requests and how to questions during past period. Most requested features were bulk upload and localization of script. They will be added in next update.
We opened a discussion forum for questions and suggestions regarding free wallpaper script. This way questions and solutions will be available to all and be more useful.
Version: 1.0 (18.12.2009)
Initial release: wallpapers, categories, users, comments.
License

Free Wallpaper Script by Vepa Halliyev is licensed under a Creative Commons Attribution-Share Alike 3.0 License.
Rewritten for 2015
Wallpaper Site Script 2 has been rewritten and modernised. This new version is responsive so it looks and works great on desktops, mobiles and everything in between.
The modern devices people use come with screens of all sizes. From small mobile devices to massive monitors & TV's, everyone wants to add a bit of personality to their tech with backgrounds & wallpapers.
Wallpaper Site Script can take one image (the bigger the better) and resize it to fit any resolution. You can configure how the image will crop so that the best result is used no matter what the screen size. You can set exactly what resolutions you want to offer your users and those images will be generated and cached as users request them.
With Wallpaper Site Script, adding and editing your site's content is super-easy. You can add images individually or bulk-upload and import hundreds of files at once. Your users can also submit wallpaper images to your site.
Enter a URL to the file (both local files and files hosted anywhere on the web)
Search for a file on your server
Upload a file from your computer/device
Download a file from another website to your site
Bulk upload & import files
User Submissions
You can also schedule content to be published at a certain time in the future. Useful for keeping your site updated even when you're away.
With Wallpaper Site Script you can bulk upload files from the admin panel and create folders. When you've uploaded a selection of files you can then import them.
When importing, you can use data such as the filename or image dimensions to populate details like the wallpaper names, descriptions & tags.
AVCMS is our new content management system that powers Wallpaper Site Script. Below are just some of the features.
Responsive
Responsive websites adapt to the screen so they look great on screens of all sizes. AVCMS is responsive on both the frontend and the admin. So you can manage your site on any device and your visitors get the best experience.
Modules
You can add/remove/edit & reorder numerous sections of the site. For example, you can choose exactly what should be on the homepage of the site, or in the sidebar of the site.
Some of the modules included are a share module (for sharing to Facebook/Twitter & more), a menu module (create custom menus), HTML module (add any HTML) and modules for content so you can create sections like "Top Blog Posts". All modules come with tons of settings like how many blog posts to display, what order, what template style and lots more.
Users, Groups & Permissions
Users can register and set up their profile with an avatar image and cover image. You can optionally enable logging in with one-click using Facebook.
As the admin, you can set-up permissions to allow or deny access to certain functionality & sections.
Admin Panel
The AVCMS admin panel is unique & powerful. Page loads are kept to a minimum meaning you can manage most content without moving away to a completely separate page.
You have control over tons of settings and options and managing content couldn't be easier.
Comments
Users can comment on the main content types. Comments load as the page is scrolled via AJAX and users can reply to other comments.
You can optionally replace the comments with Disqus comments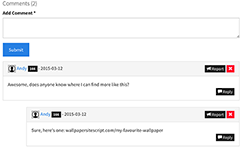 Reports
Users can send reports for things like rule-breaking comments or broken content.
Referrals & Link Exchange
Translations
The front-end of your site can be translated into any language using our simple tool or by downloading a language someone else has translated.
Check out current translations, or create your own on the translations website.
Blog System
A fully featured blog system with comments, tags, full HTML editor & more.
Adverts
Templates
AVCMS includes a number of templates and you can edit all the template files in the admin panel. Below are some examples.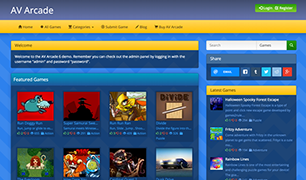 SEO & Sitemaps
No Encryption on Code
Menus
All the menus on the site are totally customisable. Create links to any page you want, choose the icons, the order, and more.
Custom Pages
Like / Dislike Ratings
Registered users can vote content with Like or Dislike ratings.

Tags & Categories
Private Messages & Friends
The best way to learn more about Wallpaper Site Script is to check out the demo.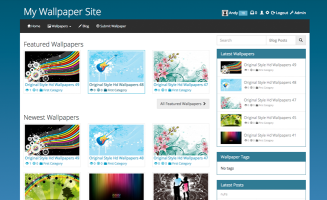 Admin Username: admin
Admin Password: password
Wallpaper Site Script
Includes every feature mentioned on this page.
Bulk discounts are avaliable if you would like to purchase multiple licenses.
AVCMS Full Edition
AVCMS is our content management system that supports multiple media types.
AVCMS currently supports Images, Wallpapers & Games.
Frequently Asked Questions
What are the server requirements?
PHP 5.4 or above (including PHP 7)
MySQL 4.1+ (MySQL 5 recommended)
GD Image Library or Imagick library (GD image library is installed by default with most PHP installations)
PHP's Fileinfo Extension (normally bundled with PHP by default)
Wallpaper Site Script runs great on shared hosting, but a VPS will always provide better speed and performance.
How long do I get support & updates?
You get unlimited support and updates. The only time an update will be paid-for is if the script is massively overhauled. The last version got massive free updates for 4 years!
Can I upgrade from a Wallpaper Site Script version 1?
While not a direct upgrade, Wallpaper Site Script 2 can import all of your site content from Wallpaper Site Script 1. So all your Wallpapers, Users and more will be imported plus old URL's will be redirected to new ones.
Is there a discount for WSS 1 owners?
Yes, current Wallpaper Site Script owners can upgrade to version 2 for a lower price. Check the store for options when purchasing. When you purchase the upgrade you will not be given a new license key, you continue to use your old license key.
If you purchased Wallpaper Site Script before the 6th October 2014, the upgrade price is $29. If you purchased Wallpaper Site Script 1 on or after the 6th October 2014, the upgrade is only $10. If you purchased after March 1st 2015, the upgrade is free. If you qualify for the $10 or free offer, you can get your discount coupon here.
Will my old templates & modifications work?
This new version is entirely rewritten so old templates and mods will not work.
Where can I get support?
Support is done through the forums.
I purchased copyright removal, now what?
Once you have installed the script click on the cog icon in the top-left of the admin panel and select "Copyright Removal" to edit or remove the copyright notice.
Can I purchase the older version?
If you need a Wallpaper Site Script 1 license, don't worry. All Wallpaper Site Script 2 purchases come with a copy of Wallpaper Site Script 1.